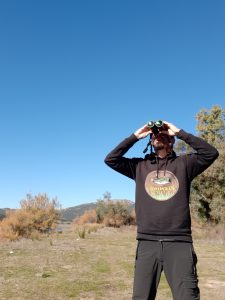 There are many ornithological routes already established in Extremadura, but here I will try to present the best places for birdwatching in Extremadura, according to their classification. Do you want to try to see the great eagles? Are you more interested in steppe birds? Or would you like to observe waterfowl birds in lagoons and wetlands?
Whatever your preference, in this section you will find interesting information about where to observe different groups of birds. Of course this is not an exact science and it is impossible to guarantee that you will see the imperial eagle, bittern, little bittern, little bustard… or other endangered birds. However, I can assure you that if you take your time and know how to stop and look, you will see a number of species that are rare in other regions.
Bird of prey sighting areas
Extremadura is an excellent community for birdwatching, probably the best in the Iberian Peninsula, so there are a large number of ideal areas for this.
To see the great eagles, the Sierra de San Pedro is a very good option. In the vicinity of the Peña del Águila reservoir we can see golden eagles, imperial eagles and bonelli's eagles. In summer, short-toed and booted eagles are also frequent, and in winter the osprey occasionally drops in.
If we want to see harriers, kites, buzzards or kestrels, we can go to the Llanos de Cáceres, the plains of La Serena, La Albuera or Dehesas de Jerez, among many other options.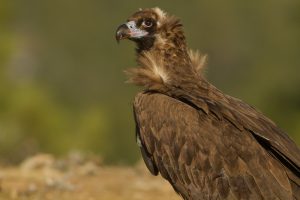 For the great vultures and egyptian vultures Monfragüe is an iconic place, although there are also many other options: Canchos de Ramiro, Sierra de San Pedro, Las Hurdes…
The peregrine falcon is rather scarce but can occasionally be seen in the Siberia or Canchos de Ramiro. Forest birds of prey such as the sparrowhawk and the goshawk are not easy to observe either. The areas of Gata, Hurdes, Sierra de San Pedro, Tajo Internacional or Monfrague can be good options. Especially goshawks will be easier to spot in wooded areas with high rabbit densities.
The small merlin is very scarce, although if we are very lucky we could see it in the southern Campiña, La Albuera or the surroundings of the Almaraz reservoir… And lastly, to see eurasian hobby, which are equally scarce, we should move to the east of the region. Preferably in the province of Badajoz, although there is a certain population in the pine forests of Tiétar.
Places for birdwatching: waterfowl
Due to the enormous diversity of birds associated with the aquatic environment, the following are the main areas in which we will be able to see a large number of them. If you are interested in a particular species, you can visit the waterfowl page for a little more information.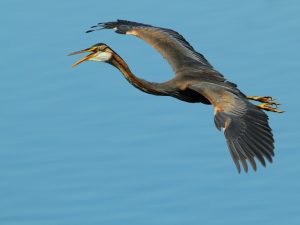 Almaraz / Arrocampo reservoir is one of the best places for birdwatching. A great place to see all kinds of water birds, including the western swamphen and the squacco heron. Also in the province of Cáceres is the Borbollón reservoir, where a large number of cranes and geese roost in winter. Los Barruecos, where we can take a very simple route in which we can observe a large colony of white storks and various ducks… There are innumerable areas ideal for bird watching, but to name them all would mean creating a post just for them…
The province of Badajoz also have several great areas for birdwatching. In La Albuera we can see stilts, gooses, red-crested pochard and many other aquatic birds (also steppe birds). In Cornalvo there is a wide variety of ducks and black storks, in Alcollarín a multitude of waders, ducks and common spatula and in Valuengo we could highlight the gadwall and the shoveler. Another good spot is Arroyo Conejos, where the gull-billed tern, the little tern and the collared pratincole.
Finally, I would like to mention the urban stretches of the Guadiana in both Mérida and Badajoz. In both cities, dozens of species can be easily spotted, and the large number of birds present in each urban centre is particularly noteworthy.
Sighting areas for steppe birds
Extremadura is a region with large plains, ideal scenarios for the sighting of steppe birds of all kinds, some of which are in serious danger.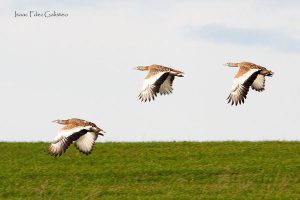 The plains of Cáceres and Sierra de Fuentes are excellent areas for the observation of great bustards, little bustards, pin-tailed sandgrouse and black-bellied sandgrouse. The Cuncos reservoir and its surroundings are also home to good populations of great bustards and little bustards. Of course, the area around the Albuera lagoons is another excellent place to observe steppe birds. Finally, the area around the Arroyo Conejos reservoir is also worth mentioning.
Places for birdwatching: mountain birds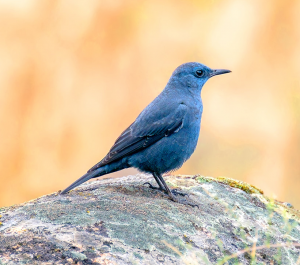 Extremadura is not a region characterised by large mountain formations or significant altitudes. Nevertheless, we can find a variety and quantity of rupicolous birds and/or birds associated with mountain ecosystems. In the north of Cáceres we have the Sierra de Gata, Las Hurdes, El Jerte and La Vera. Here we can visit key points such as the Chorro de los Angeles viewpoint, the Honduras pass or the Chorrero de la Virgen viewpoint. Passerines such as the dunnock, alpine accentor, bluethroat and rock thrush, blue rock thrush… can be observed in these areas.
On the other hand, and although they are not considered high mountain ecosystems, in the Canchos de Ramiro as well as in Monfrague or the Villuercas we can find large stone cliffs. In them we can observe rock birds such as the crag martin, the red-billed chough, ravens and jackdaws…
Sighting areas for woodland birds
We close this block of areas for birdwatching with the forest areas. As in the previous case, Extremadura is not a community that stands out for having large, leafy forests like other communities further north in Spain. However, it does have some well-preserved forests that are home to good populations of forest birds.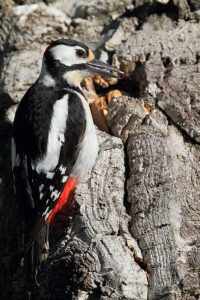 In the province of Cáceres, the best places to see birds are the chestnut and oak groves on the way up to the Honduras pass from both Hervás and Jerte. The climb up to the Refugio del Brezo from Losar de la Vera can also provide us with a good number of sightings of passerines. There we can find the short-toed treecreeper, jay, great tit, warbler, bunting, tit, bunting, hawfinch, chaffinch, brambling… The pine forests of Tiétar are another good place to see birds associated with this type of forest.
Finally, in the province of Badajoz we also have several interesting spots. In the Cerro de Tentudía we can see less frequent birds in the region, such as the green woodpecker or the redstart. In the Sierra de San Pedro we can see the bullfinch, great spotted woodpecker, lesser spotted woodpecker, nuthatch… And in the large dehesas in the south of the province, we can see cuckoos, great spotted cuckoo and warblers, among others.
As you can see, Extremadura is a very biodiverse region, with very varied ecosystems. In them we can see most of the birds present in the Iberian Peninsula. I invite you to get lost in this region so unknown to many, I am sure that like me, you will fall in love with it.